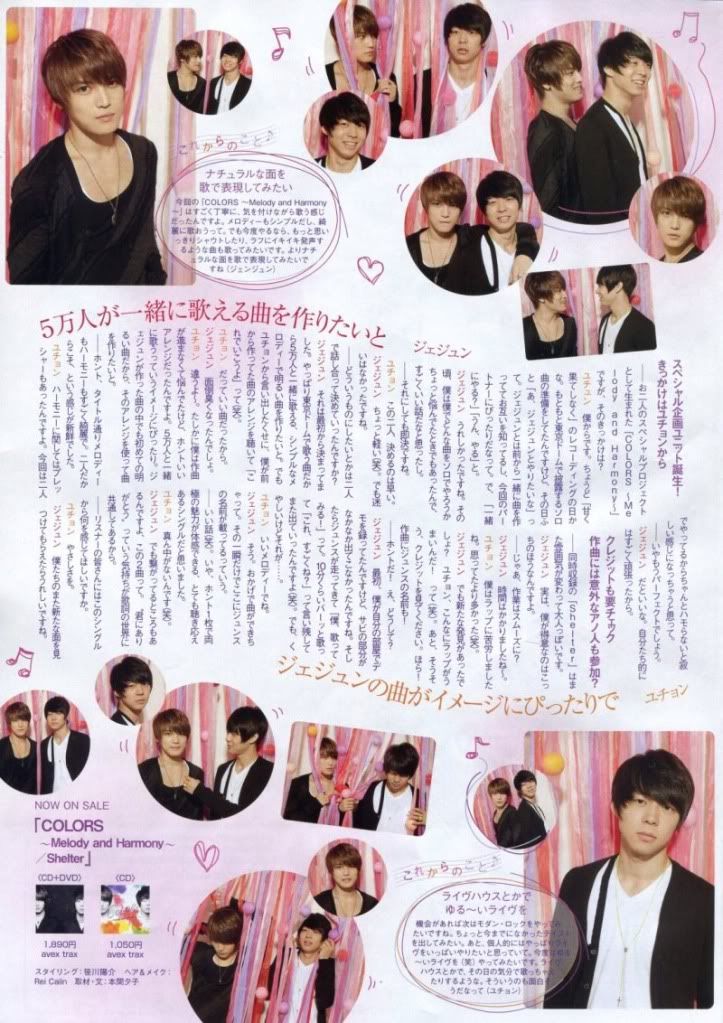 Image Credits:
http://dbsknights.blogspot.com/2009/10/sca...agazine-hq.html
Birth of a special project unit! Triggered by Yuchun
The pair's project "Colors –Melody and Harmony" was born, whose idea was it?
YC:
Mine. It was probably on the day just as we were recording "Endlessly Sweet- Amaku Hatehinaku". I was originally preparing a solo for Tokyo Dome, but suddenly on that day, I thought, "Ah, I want to do it with Jejung." I've worked with Jejung before in composing, and I thought that it would be perfect if we were partners this time. I asked, "Do you want to do it together?" He said "Yes, let's do it."
JJ:
It was beautiful. At that time, I was worrying about what to do for my solo, and I thought it was a good idea. –So I decided to go with it at once.
YC:
The two of us decided really quickly.
JJ:
It was almost trivial (laughs). But we had our goal set.
-How did you want to make the song when you were discussing about it?
JJ:
We've decided from the very beginning. Because we wanted to sing this song at the Tokyo Dome with all 50,000 people, we wanted to make a simple and bright melody. But, because Yuchun had already heard a song I arranged earlier, he suggested, "Let's go with this one." (laughs)
YC:
Because it was a good song.
JJ:
But it was troublesome.
YC:
Not at all. I was troubled because I haven't improved in composing, and it was a really good arrangement. It fit exactly the image of singing with 50,000 people. Because it's his first bright song in all the songs he composed, I really wanted to use that arrangement.
-Really? The title Melody & Harmony is really beautiful. Because it was only the two of you, the song felt really fresh.
YC:
We felt pressured about the harmony. We thought we couldn't harmonize well with only the two of us singing.
-It's already perfect, isn't it?
JJ:
I suppose it's good. We worked really hard on it.
Required credit check. Did anyone else participate in composing?
-The atmosphere of the other song "Shelter" is really mature.
JJ:
Actually, I'm really proud of this one.
-Well then, did the work go smoothly?
JJ:
It took a long time~.
YC:
I had trouble with the rap. There was more than I thought there would be. (laughs)
JJ:
But it was a new discovery, right? I told him, "Yuchun's good at this rap!" (laughs). And, oh yes, please look at the credits. There! Junsu's name is included in composing the song!
-You're right! Eh, why?
JJ:
At first, I was recording the demo in my own room, but the chorus just wouldn't come out. And then, Junsu burst into my room saying, "Let me try singing it." And for 10 minutes, he just sang it and said, "Isn't this great?" and left after. (laughs). But this was vexing…
YC:
It's a good melody, isn't it?
JJ:
Yes. Thanks to him we were able to finish the song. We put his name there because of that one moment.
-Good story. (laughs) I think it's a wonderful single that satisfies you because you can feel the charm of two very different extremes .
YC:
There's no in-between song. (laughs)
JJ:
But there is a connection between these two songs. They are similar in that they both say "Thank you" in the lyrics.
-What do you want the listeners to feel from this single?
YC:
Kindness.
JJ:
I would be happy if they can see a new side of us through this song.
credits:
whisperpuppies@soompi
shared: sweetfig